Top 3 Low-Cost Brazilian Jiu Jitsu Gifts
Top 3 low-cost Brazilian Jiu Jitsu gifts for September 2017.
Eat. Sleep. Jiu Jitsu. Water Bottle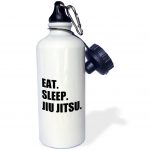 The Eat. Sleep. Jiu Jitsu water bottle comes with two caps a twist off and one standard drinking cap. The provided carabineer clip allows the water bottle to be clipped to a backpack or something else. Buy this for someone who is proud of training Jiu Jitsu.
back to menu ↑
Finger Master Hand Exerciser For Grip and Finger Strengthening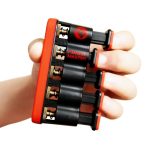 Finger and grip strength are essential BJJ attributes. Having a strong grip helps manipulate your opponent. The Finger Master allows someone to strengthen their fingers and grip easily. This is something that can be done while sitting on the couch, traveling, and more.
back to menu ↑
Amazon Basics High Density Foam Roller

The amazon basics foam roller is a low cost high benefit gift because it's highly rated, light weight, and durable. Foam rollers can help with flexibility, mobility, and muscle soreness something all brazilian practicioners can benefit from.